Cloud technology services are the best thing that happened in the last two decades. It increases the possibilities of developing an app, website, or software solution and managing it over the cloud. It doesn't need services without distributing the machines and servers to manage the huge traffic over any website and app.
Cloud storage is a requisite tool or technology we can say in such a continuously ongoing and agitate connected world.
Cloud was firstly introduced by Amazon in 2002 just for its own website store to manage the traffic since amazon.com back then continuously growing and the traffic increasing on its website.
But unlike the early days of cloud technologies today, we have multiple cloud service providers and also various services depending on users' needs and the storage related to it.
"Cloud storage is nothing else but storing digital data and business data in the form of virtual storage cloud, across multiple servers worldwide instead of a physical device."
So if you are thinking to shift your business over to cloud servers then you must know these facts and details about the cloud storage and service which suits your business well and doesn't make your money waste in terms of extra loss.
Although there are multiple providers it's up to you and your business needs how much storage you want to manage the site software and app you have and the traffic it gets daily.
We here explain some key factors which you should consider before choosing a new cloud storage service for your business website, app and software needs.
Before choosing the cloud service one thing you must have considered before further going between cloud services. The thing is that storage capacity may vary from provider to provider but the right amount of storage options considers its various features and overall costs.
Some providers often offer free storage service but it might work in some cases like if you have only a basic requirement of 200-300 people at your website in a day.
If we talk about the large business websites and apps that may have hundreds of thousands of people visiting their business websites like amazon.com, and alibaba.com then in such cases you must go with important or advanced capabilities that are available only in monetary values.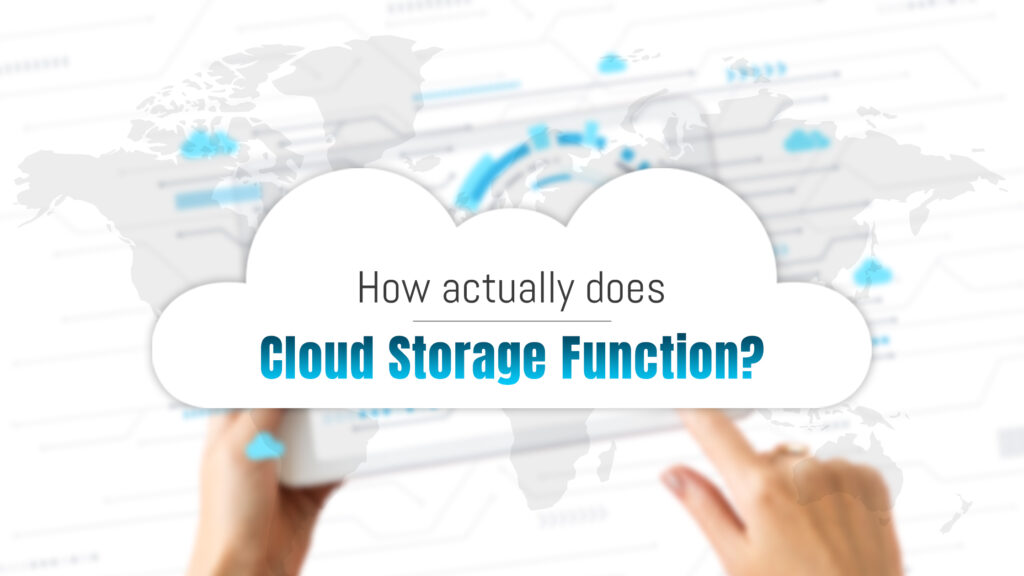 How Actually Does Cloud Storage Function?
It works through data servers connected via the internet, but unlike physical devices and servers, they provide it virtually which can be accessible with IDs and passwords no matter whether you have your device or not.
In cloud storage services the data are sent in the form of blocks or files that are sent to the cloud using the internet and are stored in the cloud or enormous servers worldwide that too more than one server to ensure accessibility and keep the data safe from any miss-happenings.
These data blocks and files are accessible via a user interface that can be personalized for each stakeholder.
Cloud services offer and perform their functions differently but they work accordingly related to your business needs and plans you chose for your services and the security and terms and conditions you want that are being followed by every cloud consumer.
Three forms of cloud are given below which makes your doubt clear about the different forms.
Private Cloud–
Private Cloud is the form of storage that provides a personal platform i.e. with in-house resources. It has just one physical server and itself instantiates multiple virtual servers for the organization that is the consumer too and allows them to have full control over the storage capacity and architecture of the server.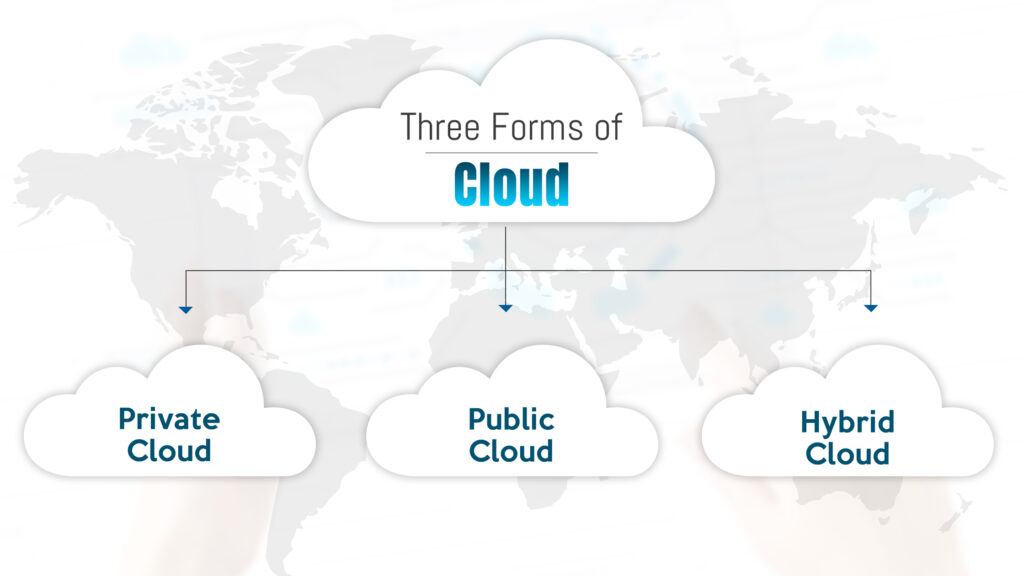 Public Cloud-
Public Cloud is the most popular form of cloud storage that provides you with a server or cloud space that is being used by several other companies.
The core benefit of using such public cloud platforms is the enlarged accessibility and scalability of the cloud. Amazon AWS, Microsoft Azure, and Google cloud storage are the prior foremost form of public cloud storage platforms.
Hybrid Cloud–
is another form of a combination of private as well as public cloud storage platforms that give organizations an option to isolate or switch their data between private and public cloud platforms.
Hybrid cloud storage ensures that sensitive applications' where security is a major concern and the scalability of the public cloud can also be leveraged simultaneously.
Classification of Cloud Storage
Cloud storage can be classified based on the architecture in which data is stored in different forms:-
Object storage is used to store data such as media files or unstructured files which can be stored in repositories also known as containers or buckets in cloud terms. This form of data storage allows greater flexibility and scalability and also comprises data accessibility and permissions easier to use.
File Storage is used to store files that occupy a file storage system to contact the data in the hierarchical form. A simple storage system to store the data in the form of files and also to retrieve well-organized data files.
Block storage is used to store dedicated storage blocks for files i.e. data and files are stored in the form of blocks that is equal in size. It makes up for a high-performing data storage and data retrieval system because of the storage blocks that too are modular in nature. In general, this type of storage is used to store databases, virtual machines, and email servers that took more space and need a high-security system.
Basic Features Which Should Be Kept In Mind Before Choosing The Right Cloud Storage–
Every cloud service needs to be useful in terms of the business model and solutions they provide despite the fact that it may vary with each service type and provider.
Also, you must need to ensure that all the requirements of your business are fulfilled by the service you choose. It should be easy to manage access and switch the data from one form to another.
The following points are there in every service that should be fulfilling the requirements of the business-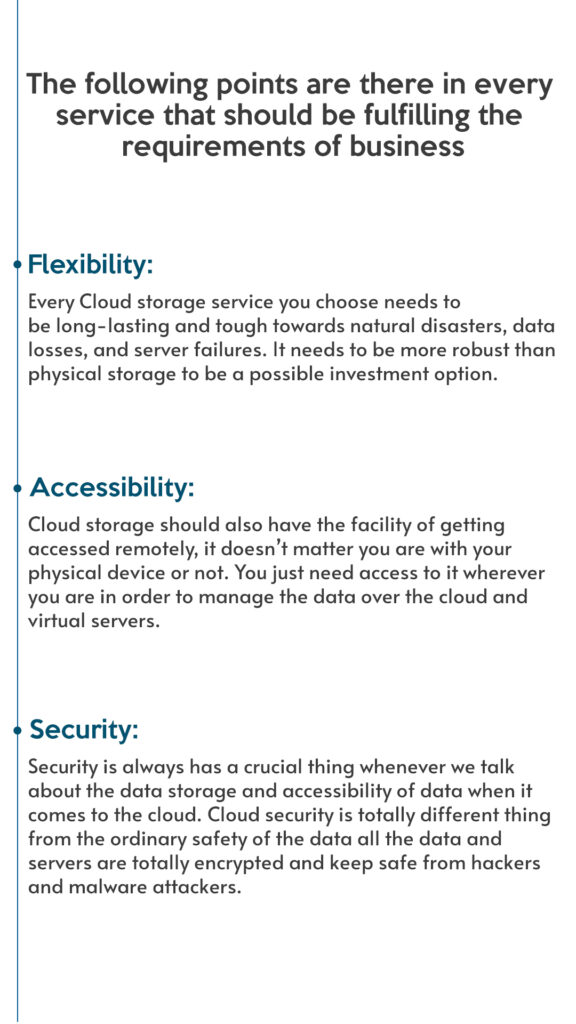 Wrapping Up-
It is a quite popular belief that cloud storage and services are too big to fail i.e. it has multiple engineers and associates who continuously work on the performance and processing of data and cloud services.
It is the best option for those businesses and enterprises that have a vast user base and have multiple servers to store various kinds of data in the form of safe and secure data that can be accessible by them anywhere in the world and also give them a backup of the data that is negligible to lose anyhow.