As an app marketer, we collect, measure, and evaluate different data points.

The main aim is to enhance the performance on the basis of data insights that we can trust. This needs asking the right question, focusing on the right metrics, and obviously having the right tool to find out more about the insights.
But do you know how to choose those tools for you?
What are the things that you should keep in your mind while choosing it?
And, what are the reasons for going for analytics tools?
No! Then don't worry we are here to answer all of these questions for you and make it easier for you to choose your analytic tool.
Developing a mobile application is associated with many things, one of the most essential features that help create a perfect mobile application for analytics.
Proper analytics can make your mobile application very satisfied in a lesser time. Analytics software can help you track the user's behavior, his buying habits, and whether he likes your mobile application or not. The analytics tool will always help you to optimize the mobile application.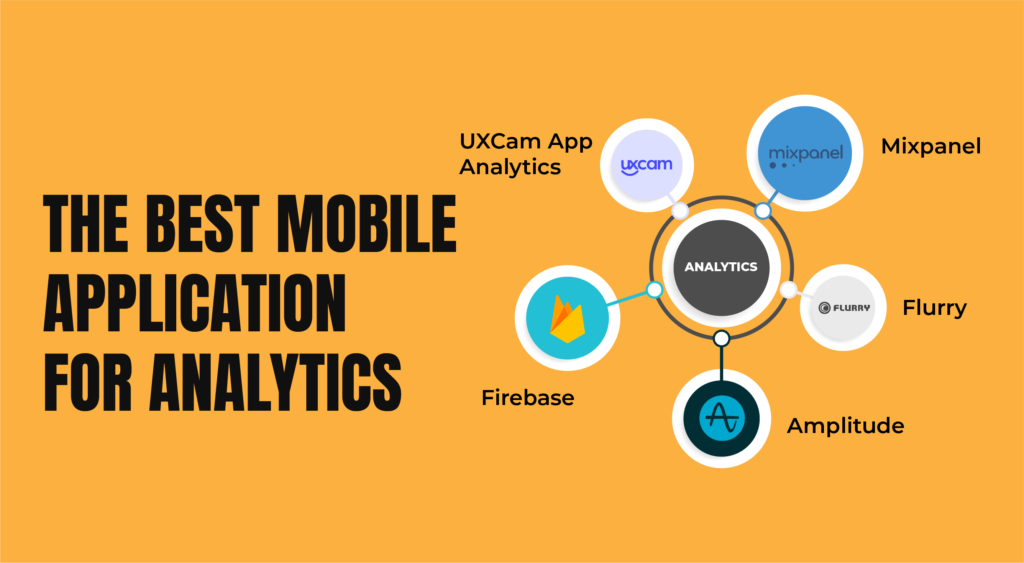 Our Team Will Help You To Choose The Best Mobile Application For Analytics.
Firebase:
Firebase is not just for analyzing the application; but also gives the infrastructure to build. This platform has many advantages like analytics, crash reporting, hosting, and A/B tests.
The pricing differs with the traffic; if your traffic is low, then the price will be fair, and if you have an application that is properly, it can be pretty expensive. You will find Firebase in the SDK stack of many popular apps.
Features of Firebase–
Hosting
Crash Reporting
Test Lab
Cloud Messaging
The mobile app is also included
| | |
| --- | --- |
| PROS | CONS |
| Advanced Crash Reporting | You can only do limited customization |
| Safe database | Can be expensive with apps with high traffic. |
| A/B Testing and Hosting | |
UXCam App Analytics:
This tool lets the app professional enhance their app's KPI with the help of a deep understanding of the user behavior. The foremost reason that you want to use UXCam is, you don't want to be blind.
It provides big pictures of charts and flows, and also user Journey.
Features of UXCam App Analytics–
Easily understand the complete user journey
Uncover user struggles automatically.
Find issues (crashes, UI freezes, handled exceptions) and opportunities on each screen.
Analyze heatmaps.
Spot hidden bottlenecks with ScreenFlow.
Understand where and why users drop off with Funnel Analytics.
Easily find sessions that matter with Session Recording.
Automatic element tagging — no additional code require
| | |
| --- | --- |
| PROS | CONS |
| Qualitative Analysis | The free Plan is for a limited time only. |
| Complete User journey Analytics | Taps are not preserved when videos are exported. |
| Duplicate and solves the crashes | |
| High Security | |
| Almost weightless SDK | |
Mixpanel:
This helps the user track the interaction and allows the user to build custom reports. This app lets you check user actions by bisecting them and creating funnels.
And also, Mixpanel shows information such as location, device, channels, and more. It can also be used for targeted communication through push notification.
Features of Mixpanel–
A/B Testing
Push Notifications
Funnels
Mobile and Web
| | |
| --- | --- |
| Pros | Cons |
| Cohort Analysis | Needs a lot of development time for setup |
| Event Tracking | Cannot create full CRM |
| Tailored Dashboard | |
Flurry:
Flurry is the answer of Yahoo for the increasing demand for app analytics. It lets you evaluate the user behavior at all the platforms, and that too at no cost.
However, it is free just because they might share your data with a third party – anonymously.
Features of Flurry–
Events
Funnels
Cohorts
Segments
| | |
| --- | --- |
| PROS | CONS |
| Free to use | Slow Support |
| Covers all the quantitative analytics features | The depth of analysis is not robust. |
| User Paths | |
Amplitude:
It is free up to 10 million user actions per month. But, if you exceed that, you will have to go for the annual contract that will cost you $2K per month, i.e., the most minimum plan.
Amplitude is a powerful tool for quantitative analysis. Many of its features and use cases are similar to those of Mixpanel.
Features of Amplitude–
Real-time app analytics.
Retroactive funnels.
User segmentation.
Scalable analytics.
Retention rate detection.
PROS
CONS
Users can create a custom dashboard
Needs some time to get habitual with
navigating tools
Fast support
No API
Cohort Analysis
There is no pre-built dashboard
It is very crucial to keep in mind that each system is unique, and it is very important to see the entirety of the customer journey when you are using the product.
Also, if you want your business to get an application of its own, then contact Engineer Master Solutions Private Limited.
Book a call now and get the best services from Engineer Master.