Social media apps are a vital part of any campaign and provide an essential platform for customer acquisition and engagement.
A profitable way to market a business is through social media advertising. It can be done at little to no cost and has the potential to reach thousands of new customers.
One of the best and quickest methods to reach customers now is through social networking. Consumers use social media to share their opinions and experiences with others, which can lead to a better understanding of the brand.
The benefit of social media is that it enables brands to be in direct communication with their target audience and understand what they want, which can help the company deliver products or services that the customer wants.
This is very different from traditional marketing channels like print ads and radio commercials because it is not limited by geography or time.
How to Choose Which Social Media App to Use for Your Marketing Needs
Social media marketing has become an essential part of any business, but it's not always easy to figure out which app to use.
The choice will ultimately be determined by the company's objectives and requirements.
There are many social media apps out there for different purposes but with the correct strategy and a lot of time invested in it you can make an impact on your marketing goals and customer acquisition.
Some marketers might find that a Facebook page or LinkedIn profile is sufficient for their needs while others may prefer to use Twitter, Instagram, and Google+ as well.
If you are trying to reach millennials then you will need a Facebook, Instagram, and Twitter presence, but if you are trying to reach a more mature audience then a Facebook, LinkedIn, and Google+ presence are best.
The key is to mix it up! If you use the same social media platform all the time then people will figure out that you are doing this, so be strategic in your choices.
If there is a social platform that you are not using, but might want to include in your marketing strategy for the future, then now is the time to start.
What are the Best Social Media Apps in the Market?
Social media marketing is a powerful form of marketing in the modern era. We are constantly bombarded with ads and online content on social media platforms. Social media is becoming a more important part of businesses marketing strategies.
Social media apps allow us to take our social media marketing efforts to the next level by enabling us to do live streaming, video stories, story feeds and location filters among other things.
The Top Social Media Applications for Marketers in 2022 are Listed Below:
FACEBOOK
The most popular social media site globally in 2022 will continue to be Facebook. It is used by more than 2 billion individuals each month. It's not only the largest social networking site in the world; it's also a hub for 30% of all time spent online and a key driver of internet traffic.
People come to Facebook to keep up with friends and family but they stay for other reasons too, such as liking businesses on Facebook, sharing videos on Facebook Watch, or following celebrities and public figures on Instagram.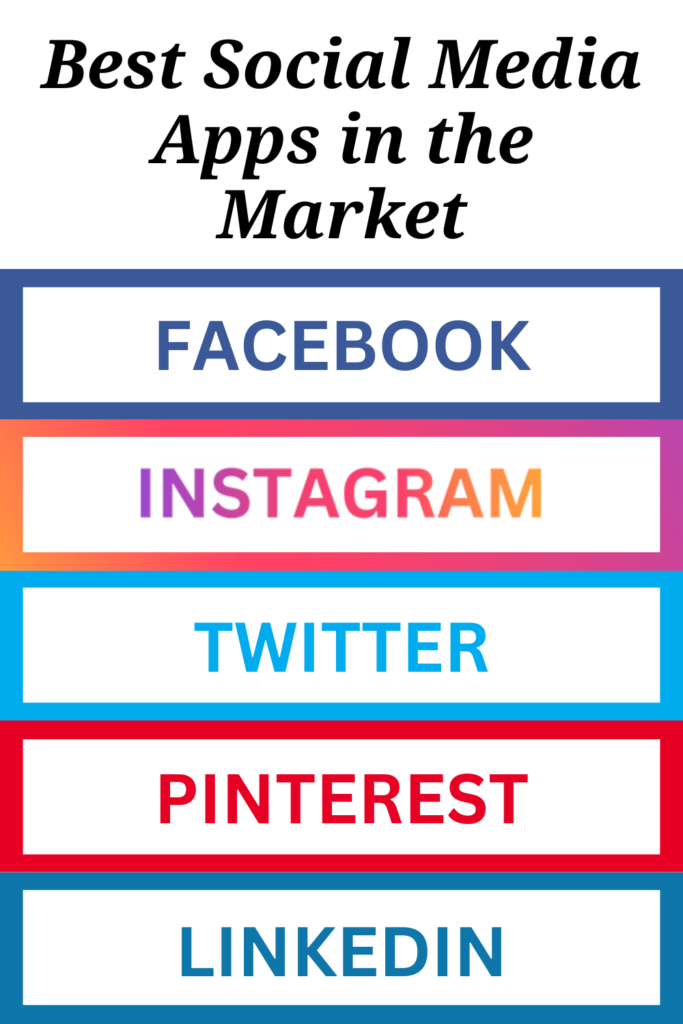 INSTAGRAM
Instagram is an excellent social media app for marketers.
1. Instagram is famous among the current generation of users and it continues to grow every day.
2. 500 million people use it every day, and there are over 1 billion active users each month.
3. Instagram is a place where everyone with a mobile device can get creative and share their ideas, experiences, and products with people they know or don't know at all in the world through creativity-based posts or videos.
4. It is an app that you can use to reach out to your target market and get their reviews on your product or service before launching a marketing campaign.
TWITTER
The best social media app in 2022 is Twitter. Twitter is the world's fastest-growing social network and its popularity will only increase in the next few years.
Twitter has been criticized for its slow growth in users and its lackluster app, but now it is changing. The company recently doubled the character limit for tweets to 280, which will draw more attention from users as well as advertisers who want to convey more with fewer words.
The best social media app in 2026 is Facebook. Facebook will take the lead from Twitter due to its more diverse user base and attractiveness towards advertisers. It will overtake YouTube, Instagram, Snapchat, and other popular social networks soon enough.
LINKEDIN
Linkedin is a social networking platform that has evolved from the original conception of just being an online professional network.
It has now grown into a business-oriented social network and is one of the best social media apps in 2022.
Linkedin's popularity as a public platform grew by more than 18% in 2017. This shows that companies are investing in Linkedin, as they see it as a valuable marketing and sales tool.
Moreover, Linkedin has been able to stay ahead of its competitors such as Facebook and Twitter by constantly changing its user interface to look more attractive to its target audience which ranges from entrepreneurs, managers, executives, educators, marketers, and professionals.
PINTEREST
Pinterest is a social media platform that lets users upload, organize and manage images and videos in their own virtual pinboards. It is best known for its use of "pins", digital objects that are posted on different pin boards. Users can find a variety of content on Pinterest such as recipes, home decorating ideas, fashion trends, movie trailers, celebrity gossip, and more.
With over 80 million users across all five main platforms, Pinterest is quickly becoming the most popular social media platform in its niche. It will have more users than Instagram and LinkedIn combined together. The main reason for its success is its continual ability to keep up with the latest technology trends while still maintaining the ease of use that people love about the platform.
Read Out Our Blog: https://blog.engineermaster.co/
To conclude, social media plays an important role in a company's marketing strategy. Not only are social media tactics affordable and easy to organize, but they also have the potential to have a significant impact on the success of a campaign. Choosing the right social networks can help businesses reach their target audience and keep them engaged.