Are you worried about which field to choose for your future?
Or
Do you have fields in your mind, but not sure which one to go for?
Is Blockchain Developer in your list?
No?
Then bring it in. Because it is the best field that has a large scope in Future and you can definitely start your career in this. Read this full blog to know how to become a Blockchain Developer. 
According to experts, Blockchain Technology will totally change the way we keep, share, and alter the data and also the way we perform business. However, Blockchain was mainly created as a backbone of Bitcoin, but its versatility and security has made many sectors to use it. Even the government has started using it.
What is Blockchain Technology?
Blockchain is nothing but a chain of blocks that have the information of the sender, receiver, and even the amount that is transferred. This technology makes the cryptocurrencies like Etherium easier, just the way Computers made our life easier. 
The data of blockchain that is once stored in a digital ledger can not be changed.
Why Should you Build a Blockchain Career?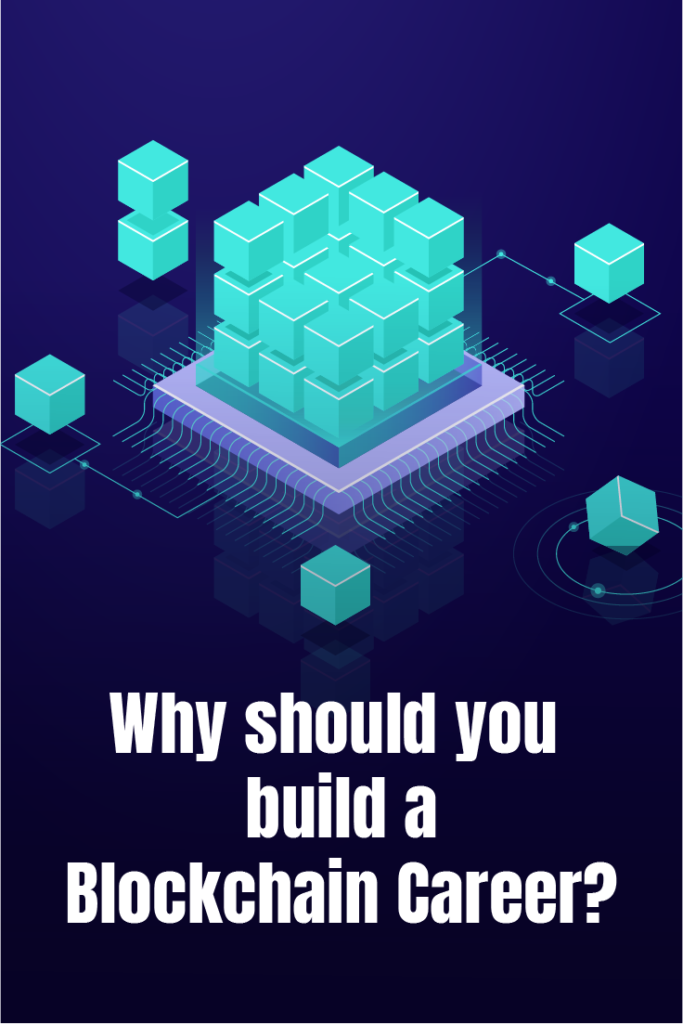 If you feel like starting your career in the field that has a lot of scopes, then you should definitely go for Blockchain Developer. There is a requirement of Blockchain Developer at the highest level but there are very few blockchain developers at present. 
That is why it makes sense to become a Certified Blockchain Developer in 2022.
How to Become a Certified Blockchain Developer in 2022?
Know The Mindset–
The way you work on your technical skills, when you try something new. In the same way there are certain skills that you will have to learn to become a successful Blockchain Developer.
Firstly, you will have to learn how to coordinate with the team. In addition to this, a perfect Blockchain developer will come to know when he/she needs help and when they can solve it on their own. 
Learn Different Languages–
What do you think about speaking languages? No, here I am talking about programming languages. But have you never worked with languages? Don't worry! You will not have to become a perfect coder for this.
You will just have to be comfortable with certain languages i.e. C++, SQL, JavaScript, and Python.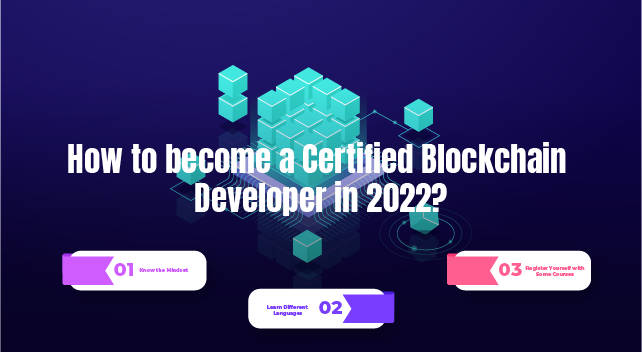 Register Yourself With Some Courses- 
When I talk about courses, I do not mean some courses where you will have to go physically. But, you can learn about it while just sitting at home. Enroll yourself with the courses on platforms like Coursera, edX, and udemy. The courses like:
Bitcoin and Cryptocurrency technology 
Specialization in Cryptocurrency
Developing Blockchain-based Identity Applications