Two heads are always better than one. Don't you think so? Then why not add software development outsourcing to your checklist?
The first question that arises to mind is, what is software outsourcing and what are its benefits.
Stop thinking! Because we have brought a whole guide on the same.
At first, it was initiated by IBM and FDS, outsourcing software development and other IT services are a strategic approach embraced by product managers, CTOs, and even merchandisers to avoid the technology gap.
To bring to your notice, it is not a new approach. Businesses have been adopting outsourcing since the early 80s.
Yes, around 40 years and still in trend.
As a matter of fact, the global IT outsourcing industry is expected to generate a revenue of 351 billion US dollars by 2021.
However, there must have been some reason for being so long-lived. There have been so many other processes that have become obsolete in the same time span. Meanwhile, new processes continue to develop.
Imagine of work from home, for this present condition.
There are a lot of pros for the same. Not only does outsourcing let you adapt latest technologies, but also makes sure about the business continuity disregarding any operational chaos. If there is an involvement of an external IT company with hands-on long-term experience and particular expertise, an organization can take advantage of technology in its software and reach the top in the market.
In the present times, organizations of all sizes are looking to make new outsourcing relationships or make the bonds with offshore IT companies stronger to face the unpredicted phase brought up by pandemics.
Can I outsource?
What are the benefits of software development outsourcing for me, as a CTO or product manager?
Is outsourcing software development a good idea for startups, product companies, or enterprises?
What can I do to ensure success with outsourcing?
What are the risks associated with outsourcing software development?
How do you determine the right time to outsource software development?
What is the best way to find a good software development company to outsource to?
And the list goes on…..
So, that is why we are here to answer all the questions with a guide.
Therefore, before you join hands with a third party or IT outsourcing company and get it to start working on your software project, there are several other questions that should be answered.
Our software development outsourcing guide has a mission to answer any question that you may have been getting into any outsourcing agreement with an outside vendor. So, let's begin by understanding what outsourcing is.
What is Outsourcing?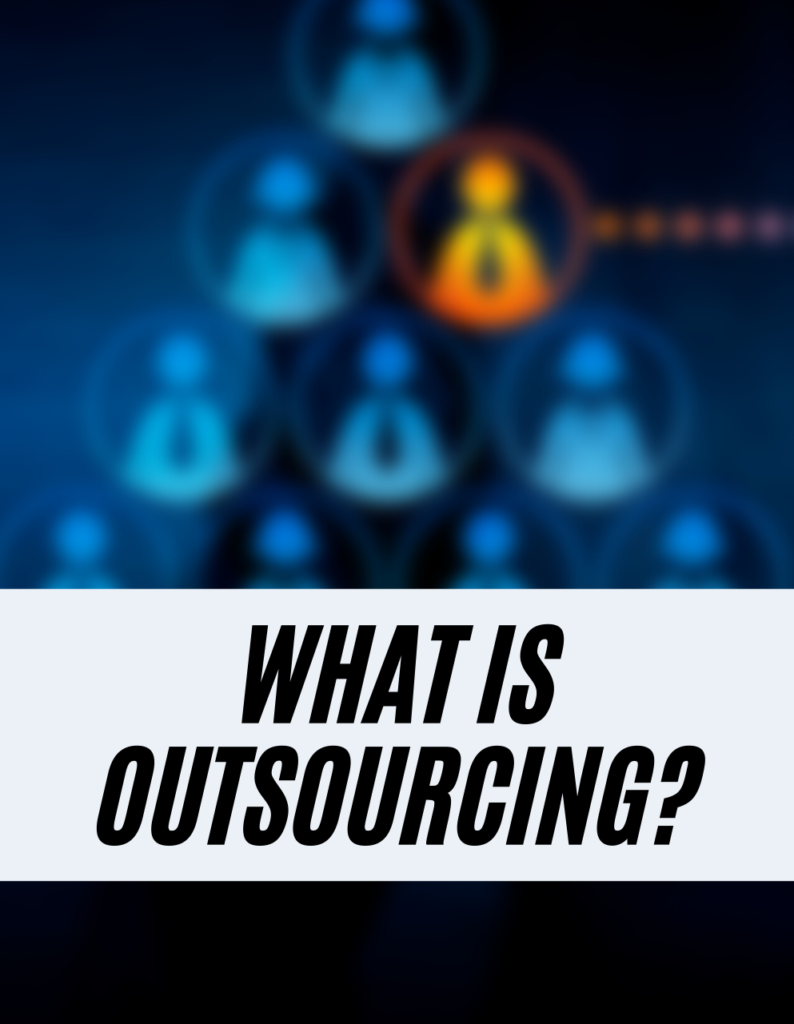 If said in simple terms, outsourcing implies trusting your business brief to a third party to indulge expertise. In this process, i.e., software development outsourcing, you find out the term of software development that needs expertise. Well, now that could be a particular feature of the software development or it could be the whole process.
Then you will have to find a technology partner or a software development company to collaborate with. They analyze your requirement and begin with the development process.
As the requirement to launch a digital product has increased, software development to an offshore country has been the new trend.
Whether it is to fill in the technology gap, reduce the development costs, complete sudden demands, measure the development, and at the lowest update the software to be in healthy competition, outsourcing has the perfect solution.
Right from startups and small-medium-sized businesses to large-sized businesses, everyone can take advantage of outsourcing software development to make a successful launch of their products in the digital world.
When it comes to outsourcing, there are different opportunities that it holds with it. It is not just about offloading your software development to another company, but it also brings some more opportunities with it.
Strategic Time to Aim:
While the outsourcing company develops your software, you can focus on what's working and what's not. Companies that outsource their software development have the advantage of focusing on their core business functions. You can improve your business with strategic planning.
Cost Cutting:
Cutting down your cost is an important benefit of outsourcing. You can drastically lower your cost if you plan your outsourcing endeavor strategically. If your objective is to minimize your cost or launch the software at a minimal cost, there is no better option than outsourcing.
Use Latest Technology:
Outsourcing can be your go-to solution in case your project is high-aimed and needs technical expertise. You can choose a company that can deliver the latest tech stack and integrates it.
Taking the risk:
You will save money, but you will also be able to share risks with the external software developer. While you have your own team working on some tasks, the outsourcing team can provide the expertise of an external team.
Extremely responsive to demand volatility:
If your demand fluctuates, there is no time to build a team in-house. Outsourcing gives them flexibility. They can scale their teams up and down very quickly, depending on their needs.
Now that we are aware of the meaning of outsourcing, with its main benefits. However, just being aware of the benefits is not enough. Therefore, we are also enlisting all the chaos that CTOs, product managers, and other organizations face. Read this blog further to know more!
Challenges Outsourcing Solves
Outsourcing is proved to be fruitful to businesses for all scales. And even then, the whole point of outsourcing was not just to save money, but it was to get expertise in IT operations, back in days, build data centers.
The goal was for businesses to do what they do best at their end and entrust other operations to their respective experts. This helped them to phase out many challenges and be the best in their services.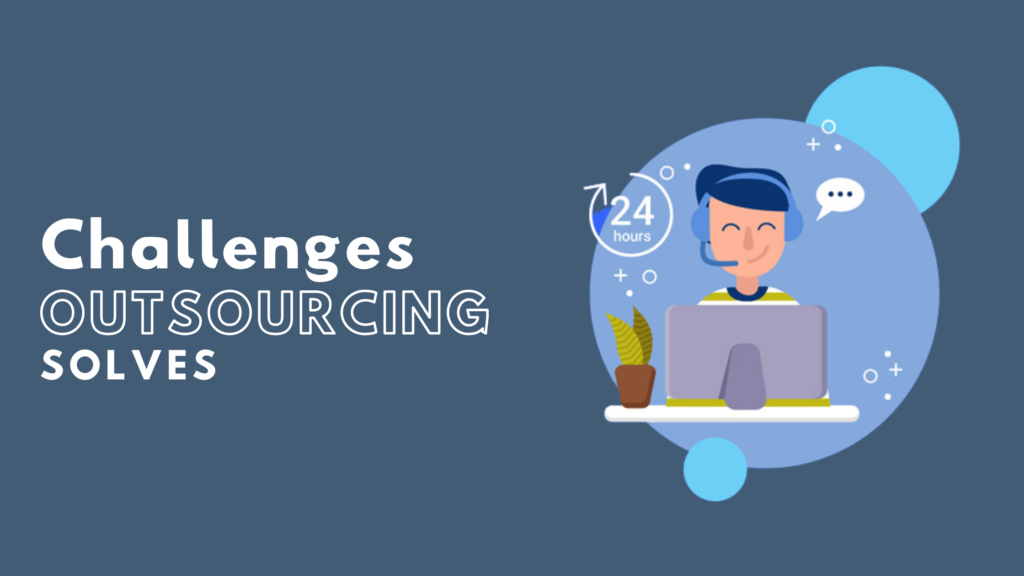 Even now, outsourcing is a strategic move enabled by CTOs, product managers, entrepreneurs, enterprises, and others to face different business challenges. Let's make our understanding clear by highlighting the problems you might face and how outsourcing could help.
Challenges for CTOs
CTOs or Cheif Technical Officers take care of most of the development work, whether they are working with a startup, for a product company, enterprise, or some other type of organization. The main role is to handle all the aspects of the technology in that particular organization and make sure the technical maturity of the organization.
The majority of challenges faced by CTOs can be solved by outsourcing software development. On the other hand, they face certain challenges while ensuring the technical maturity of their organizations.
Don't believe us?
Consider these challenges you might face as a CTO and how you can overcome them by outsourcing development or other technology needs to an expert.
Hiring Tech Specialists: Innovative technology requires experts who are not only highly skilled in the required technology, but also highly motivated. However, the majority of CTOs are unable to find the right specialist for a number of reasons, the geographical limitation being one of the most significant.
The US and the UK do not have the necessary IT skills, and even if they did, the fees they charge are extremely high. In addition, if you hire someone with moderate to low skills in the required technology, training them can delay the project.

How does Outsourcing overcome it?

CTOs can find the best IT specialists around the world by outsourcing — a plethora of opportunities and doors open up to them. There are no longer any geographical limitations to searching for talent. Any type of technology project can be outsourced to a tech specialist easily and cost-effectively.
Ensuring Tech Innovation: CTOs are accountable to make sure their organization and teams are creative at all the levels. They have to take their organization to the front foot of digital transformation. And to ensure this, they need a group of technically advanced, updated with the leading tech advances, and coming up with new ideas.

How does Outsourcing overcome it?

Several offshore outsourcing companies provide their technical expertise to help businesses digitally transform. Their vast technology stack will enable businesses to integrate state-of-the-art features and functionalities without worrying about the costs or looking for specialization. When looking to innovate, outsourcing to countries like India, Ukraine, Poland, and others can be a smart move. In fact, India is emerging as a technology leader, and you can outsource to India or partner with leading Indian IT outsourcing companies to embrace technology.
Challenges For Product Managers
So, what you thought Chief Technical Officers are only the ones facing the challenges in terms of technology. Well, you are wrong! Even Product Managers, taking care of SMBs, SMEs, and startups, face some problems related to the development work. They have a lot of things on their mind, which needs to be made sure of while keeping in mind the smooth development work.
If you are also one of the product managers, then I am sure you will relate to the problems. So, here we bring the solution you can get via Outsourcing.
Limited Tech Understanding: It takes technical expertise and in-depth knowledge to build any product. It can be difficult to select the right tech stack, library, or framework for development without a complete understanding of technology. And this is where many product managers or entrepreneurs find themselves hassling.

How Outsoucing overcomes it?

A number of software outsourcing companies cater to startups and small businesses with technical expertise. Their years of experience and expertise can be useful to startups and small businesses. In fact, they can act as your technology partner to help you become technologically mature to cope with all other challenges.
Inadequate Planning: Prior planning and a roadmap that outlines all the steps in the development process are critical for successful software development. Focusing on the development process too much too soon and wanting to accomplish too much can be the cause of Icarus' demise. To begin and successfully complete the development, you need a well-developed plan.

How Outsoucing overcomes it?

Here, outsourcing enables startups and the assigned product managers to collaborate with a team that knows the process of development and follows the ideal approach, agile software development for instance. When there are initial stages, the offshore company lays down the whole complete, at the minimum for the initial steps to fulfill the project within the given time. They keep in mind all the things and work according to the plan and even make sure the smooth working.
Other Challenges that Outsourcing Overcomes
Other than this, there are several other challenges that are faced by the companies, product launches, startups, SMBs, and other software development. These could be anything ranging from simple business challenges or challenges that stops the growth of an organization. No matter what, software development helps in overcoming several other challenged like:
Lack of Business Direction
Inability to Handle Bigger Products
Less Office Space
Staff overwhelmed
Less IT Strategy
Common Challenges You May Face in Outsourcing
Yes, I know this section is quite questionable. But, it is a fact that outsourcing dies come with some chaos that might seem nothing but they can be super frustrating to others. Working with startups, businesses, and CTOs, we have come up with some common challenges that are faced by everyone.
Poor Communication: Communication is one of the many well-planned strategies in place that is imperative to ensuring that you are not left with any confusion during the process. Despite the fact that outsourcing is basically the same across all industries (having a service performed by another organization), the way you implement it will vary based on the way your organization operates.
Different challenges in an organization's work and operations force them to outsource software development. A business owner must identify the gap before he or she can create a strategy for their business.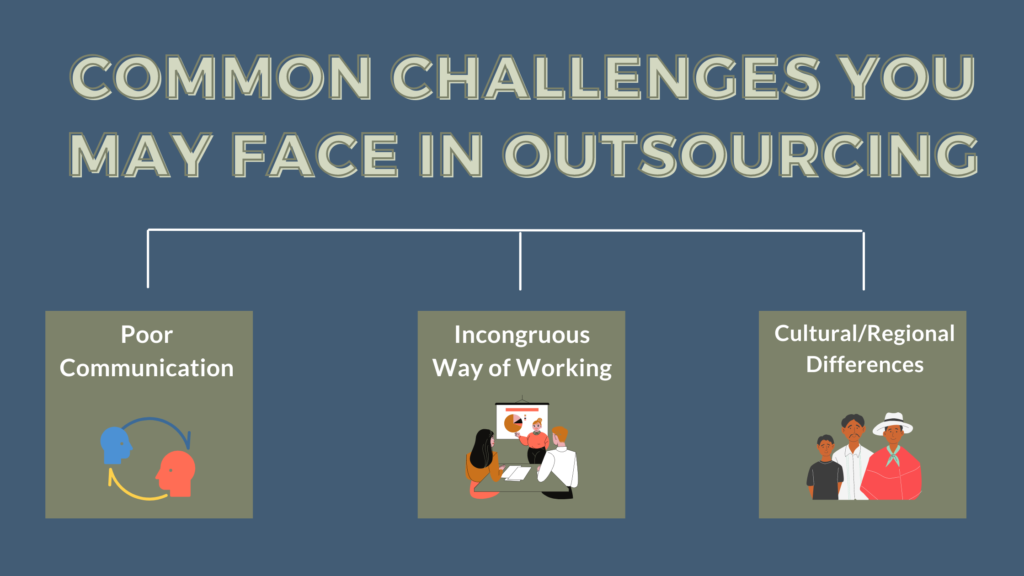 Incongruous Way of Working: Other than different company cultures, there might also be difference in methodologies. There are different methodologies like, scrum, waterfall, agile, and many more. And if your working is way different than how your outsourcing company works, then there might be many challenges.

Cultural/Regional Differences: Although globalization and outsourcing are becoming increasingly prevalent, cultural and regional barriers remain a challenge. It is possible for the in-house and outsourced teams or remote developers to have different corporate cultures, which can have an impact on different aspects of the business. Businesses can, however, arrange training classes and prepare their teams to work with remote developers.
It is possible for companies to successfully outsource, but then become too reliant on the provider. This is unhealthy and called vendor lock-in. In order for outsourcing to be effective, you need a partner company that is efficient at post-development knowledge transfer.
Outsourcing can help overcome a number of business challenges, but it can also introduce its own set of problems. However, if one selects the right outsourcing practices and a professional outsourcing partner, one can.
Final Words
We hope you have a clear idea of what and how outsourcing software development can benefit your business. At Engineer Master Solutions, we have over 18 years of experience in the domain of information technology.
We have helped hundreds of thousands of startups, enterprises, CTOs, and organizations of all sizes build their software and achieve digital transformation. Whether the objective was to save costs, develop state-of-the-art software, or speed up the process, our expertise has earned a lot of praise.
Outsourcing your software development project to our team means incorporating a talented workforce, high-quality codes, and seedy development into your project.
Stating some problems to avoid Software Development Sourcing.