Outsourcing Java developers can be a great way to expand your business operations and give you access to a global talent pool. You can hire dedicated developers with specialized skills in Java that are not available in-house. Additionally, java remote developers allow you to scale your team with ease and access the best talent from around the world.
Outsourcing Java developers can help propel your business growth by providing cost-effective solutions, reducing overhead costs, and offering flexible working hours. With remote developers, you have access to talented professionals that are experienced and well-versed in developing custom applications quickly. Furthermore, outsourced Java developers can help your business stay competitive by giving it an edge over competitors who are unable to leverage the latest technologies.
Remote Java developers allow you to scale your team with ease and access the best talent from around the world. Outsourcing a Java developer can help propel your business growth by providing cost-effective solutions, reducing overhead costs, and offering flexible working hours.
Advantages of Outsourcing Java Developers to Grow Your Business
Access to Top Talent
By hiring Java developers from the outside, you may access a huge talent pool of experts. Outsourcing gives you access to skilled developers with in-depth knowledge and competence in Java, a popular programming language. Working together with competent developers will enable you to make use of their ability to create dependable and scalable Java apps, thereby accelerating the expansion of your company.
Cost Savings and Increased ROI
The cost reductions that outsourcing Java developers provide is one of its main benefits. You may cut the overhead costs of hiring, onboarding, and supporting an internal development team by outsourcing. Additionally, outsourcing gives you access to labor markets that are competitive, where you may get highly qualified developers for less money. These cost savings can be put back into your company's operations, resulting in a higher return on investment (ROI) and quicker expansion.
Scalability and Flexibility
As your business grows, your development needs may vary. Outsourcing Java developers provides you with scalability and flexibility to adapt to changing requirements. Whether you need to scale up development resources for a large project or scale down during lean periods, outsourcing allows you to quickly and efficiently adjust your development team size. This agility ensures that your business can respond promptly to market demands, accelerating your growth potential.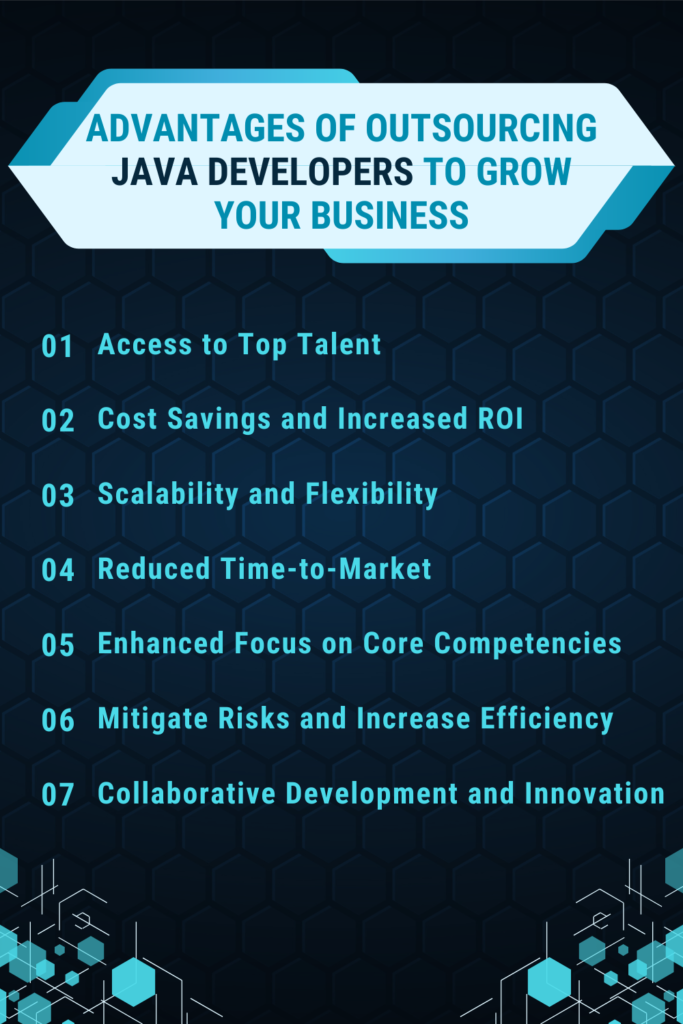 Reduced Time-to-Market
Time-to-market is essential in the quick-moving digital world. Java developers can help you speed up development and get your goods or services to market more quickly. You can speed up development cycles, eliminate bottlenecks, and guarantee on-time delivery when you have dedicated developers working on your projects. You acquire a competitive edge and capture business opportunities before your rivals do by reducing your time-to-market.
Enhanced Focus on Core Competencies
Outsourcing Java developers helps your business to focus on its core competencies. By contracting with outside developers, you may free up your own resources to concentrate on strategic goals, innovation, and business expansion. Your organization may advance due to this stronger focus on your primary competencies, which can increase performance across the board and productivity.
Mitigate Risks and Increase Efficiency
Java development outsourcing can reduce the risks related to in-house development. You work with businesses that have established procedures, quality control measures, and project management approaches when you outsource. This guarantees a more efficient development process, lowers the possibility of mistakes, and increases overall effectiveness. You build a strong base for continuous corporate growth by reducing risks and boosting efficiency.
Collaborative Development and Innovation
Java development outsourcing offers a chance for creativity and cooperative development. Working with outside developers gives your projects new insights and a variety of skill sets. This partnership encourages creativity, promotes information sharing, and supports the creation of cutting-edge Java solutions. Embracing innovation through outsourcing can help your company stand out in the marketplace, bringing in more clients and fostering growth.
Conclusion
Outsourcing Java developers can be a game-changer for your business growth. As businesses continue to look for ways to improve efficiency and reduce costs, outsourcing Java developers has become an increasingly attractive option. The right Java development team can bring a wide range of benefits to a business, from cost savings and improved productivity to access to the latest technology and higher levels of customer service. By outsourcing their Java development needs, companies can ensure that they are getting the best possible value for their money while also making sure that their projects are completed on time and within budget. With the right team, businesses can expect increased growth and success in the years ahead.