Choosing the right dedicated development team is an essential part of any successful software development project. The team you choose will be responsible for ensuring the success and quality of your project, so it is important to make sure that you are selecting the best possible option.
The top five considerations to take into account when choosing a dedicated development team will be covered in this article. We will look at how an effective team should be structured and how their expertise can add value to your project. We'll also discuss how important communication is for successful collaborations and why it's essential for any successful outsourcing endeavor.
When Choosing a Dedicated Development Team, There are Five Key Factors to Consider
What is the project's budget?
The amount of money needed for your project will largely depend on what type of app you want to develop. If it is a small project, such as a website or mobile app, then you should probably go with an individual developer or small team rather than a large company. In order to find out how much money you will need for development, estimate how many hours an individual developer will have available and multiply that number by your hourly rate.
To find out if this is affordable, compare the cost per hour to other options in the market and ask other developers about their rates. Some developers may be willing to work for a lower hourly rate while others may demand a higher one in order to compensate for the time they will have to spend on marketing if they are hiring an individual rather than a larger company.
Experience
Experience is an important factor to consider when choosing a dedicated development team. It's best to look at their portfolio of past projects and make sure they have expertise in the technology stack that you need for your project. Additionally, assessing their technical skillset is also essential to make sure that they can actually deliver what you need them to do.
The pace of learning should be considered as well. If you are an early-stage startup and need a team that can build a piece of technology from scratch, then picking a smaller dedicated team may be more suited for your needs. However, if you have an established product or need to redesign the current one, it's best to hire a bigger team with expertise in the technology stack that you need.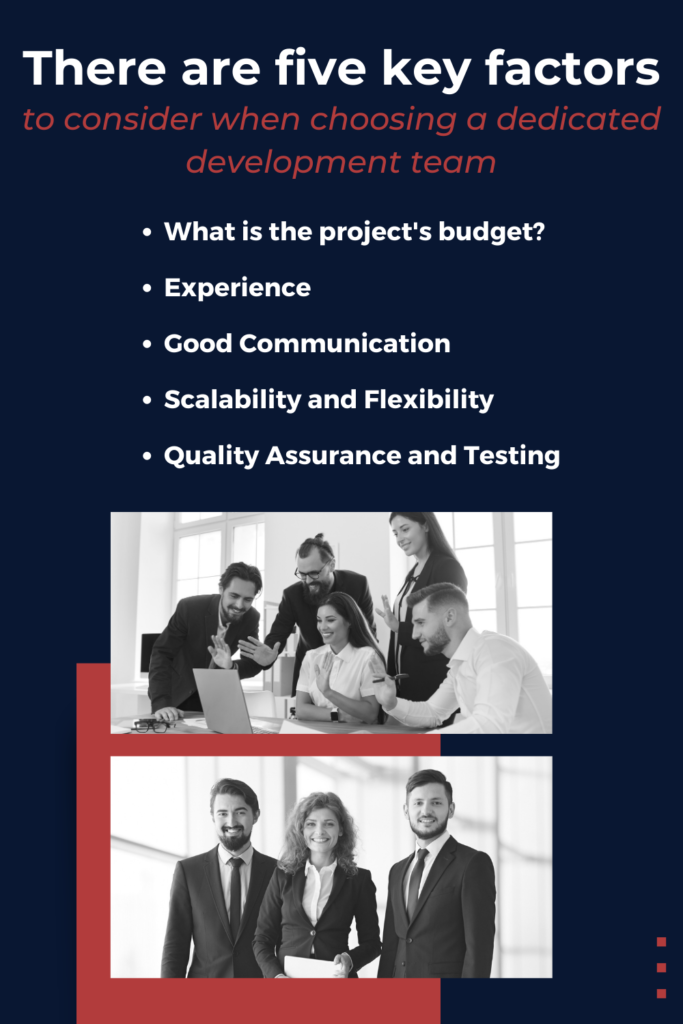 Good Communication
Good communication is also essential for any successful project. You must make sure that there are no language barriers between you and the development team. Language barriers can cause misunderstandings which in turn may lead to delays. You should ensure that you use the right vocabulary to ensure that your project communication is clear.
You need to set a tone for the team and prioritize information based on what is needed at any given moment. You also need to keep an eye on milestones, deadlines, and progress so that everyone knows what is going on. and be able to collaborate effectively with them throughout the process.
Read Out More Blog: https://blog.engineermaster.co/
Scalability and Flexibility
It is crucial to take into account a dedicated development team's flexibility and scalability, especially if your project calls for ongoing maintenance or could eventually require expansion. Make sure the team has enough resources to meet the demands of your project. This entails having access to a wide range of talent, being able to swiftly alter team size as necessary, and being adaptable to shifting project requirements or deadlines. You'll have the agility needed to efficiently accomplish project goals with the help of a scalable and adaptable team.
Quality Assurance and Testing
Your software solution's effectiveness and user pleasure depend heavily on its quality. As a result, it's crucial to take into account the quality assurance and testing procedures used by the committed development team you select. Ask them about their testing strategies, such as manual, automated, and quality control processes. A trustworthy team should have a clear testing procedure in place that guarantees rigorous testing at every step of the development to spot problems early and fix them.
Conclusion
when looking to hire a dedicated development team, there are a number of factors to consider. It is important to ensure that the team is comprised of experienced professionals with the right skill set and knowledge. It is also important to ensure that they have the right tools and processes in place for efficient and effective development.
They should be able to provide you with comprehensive project documentation, have an open communication channel, be able to handle any changes that may arise during the course of development and be cost-effective. By considering all these factors while choosing your dedicated development team, you can be sure that your project will run smoothly and achieve success.