Using a Payment Gateway, you can accept and process debit and credit card payments online. Payment Gateways enable online or in-person card payments, allowing merchants to accept credit cards both online and offline. They also support in-person Point of Sale (POS) processing.
Payment Gateways are sometimes merely a way to charge cards, with merchant fees usually ranging between 1.4% and 3.5%, plus a monthly fee. Processing fees charged by payment processors are dependent on the type of account you have and how much money you process. The average processing fee for a VAT customer is around 10-20% per transaction, but many can be as low as 0.10%, depending on the merchant account provider you choose.
Since monthly costs might reduce income more than processing fees, a straightforward payment gateway will be the best choice in the short term for low-volume transactions. One benefit of an efficient processor is that they'll often provide service deals if you meet certain volume thresholds.
Numerous Payment Gateways provide either of these choices or another benefit over the competition. This can include direct integration into accounting software or decreased processing costs for particular cards.
What is a Payment Gateway?
Merchants can take debit or credit cards from customers through the use of a Payment Gateway. It refers to the real card readers you see in shops. And also to the online portals that are used to collect online money.
The Payment Gateway is the Consumer-Facing Interface that helps in collecting payments. In the brick-and-mortar store, the place where the card is swiped or the phone is tapped, is known as Point-of-Sale (POS).
In an online store, the checkout page is where customers enter their credit card details. When we use any application as a payment method, customers log in using their email addresses and password.
Best Payment Gateways
If you are looking for the right payment service, then we are here for you with a list of them:
1. Stripe:-
The Stripe payment gateway is one of the famous SaaS Billing systems. The reason behind its popularity is, that one of the easiest Payment Gateways to set up. Stripe makes it easy to send out payments through the Stripe gateway and process those payments on your platform with the Stripe API.
With Stripe, you will just have to pay 2.9% + $0.30 for every transaction. There are no monthly charges(unless you have chosen additional features).
This Payment Gateway is a common choice for SaaS companies, mostly because it's easy to set up and integrate with tools you already use. There's no monthly fee, it's easy to integrate with tools like Hubspot, increases sales by giving you access to StripeCommerce, and they offer a generous credit line when you sign up.
2. Braintree:-
PayPal owns Braintree, and they have long had a blue checkmark on their site. This is because they are a service provider as well as an API that can make things easy for your customers.
Braintree is one of the easiest entry-level Payment Gateways to set up and manage. However, Braintree is also packed with features that make it just as easy to navigate as Stripe or other alternative payment gateways. Braintree charges 1.9% plus 30 cents on every transaction.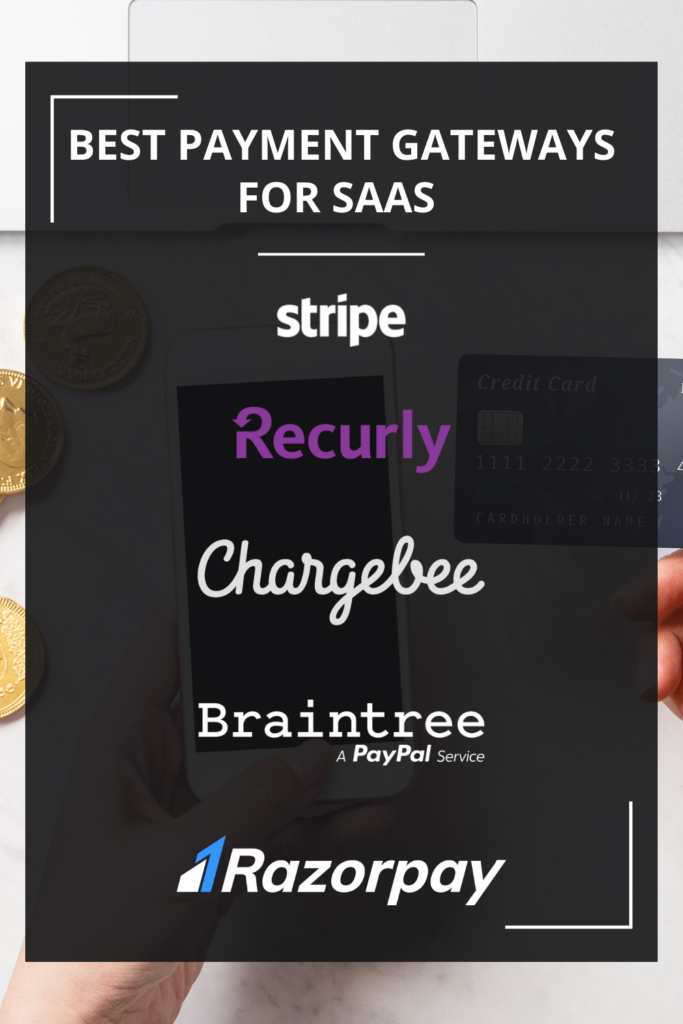 3. Razorpay:-
For SaaS businesses, Razorpay is also a very popular Payment Gateway, providing a platform designed for automation. Create and alter subscription plans according to various timeframes and invoicing schemes.
Razorpay's suite of payment solutions allows businesses to accept and disburse payments without the need for separate third-party software.
It supports credit card/debit card, net banking, UPI, and recurring format processing with added transaction fees in the Indian market, as well as outside India. For international transactions, the standard fee is 3%, with an additional GST of 18%.
4. Recurly:-
With Recurly, you'll get advanced billing features like automated recurring billing and subscription payments. If you have a payment gateway and Merchant account, then you can use Recurly to process payments. However, you don't need to use Recurly on its own. You can integrate it with other services like Stripe or Braintree, as well.
Charges of Recurly start at $149/ month + 90 cents of revenue. There are no hidden fees involved with merchant accounts.
However, you'll benefit from enhanced reporting, comprehensive subscription management, and increased flexibility for various charging models.
Read Out Our Blog: https://blog.engineermaster.co/
5. Chargebee:-
Chargebee is a software-as-a-service that combines subscription management & recurring billing. It makes it easy for you to collect payments, create subscriptions, and track usage. Chargebee offers subscription management, marketing campaigns, analytics, and more.
Chargebee has integrations with several Payment Gateways and some other services. Chargebee gives SaaS businesses a slew of options to tailor their pricing model to their individual needs and goals.
Monthly and yearly charges with Chargebee start at $249/month (for annual plans). Included are $600K in yearly revenue as well as 0.6% of any monthly revenue above that amount.
Their feature-rich platform comes with a range of upsells, pricing experiments, and revenue recognition options. The company also has great support for managing trials and winning customers later on down the line.
Your Payment Gateway is Never Set in Stone
When you start working with one company and realize it isn't what you expected, you can always change. A switch may mean investing in new POS equipment, but for an eCommerce store only, that's no big deal. Begin with just two or three options, and add or change them as needed.