There are different aspects of life that we do daily or go through daily but unconsciously. Mobile Apps are things we all use for different purposes but never thought of how they made our hectic life easy.
Look how amazingly a piece of the device has changed and made our life easier. Smartphones are the best invention of this era, and apps are the soul of it. With the help of a few clicks, the world has come to your fingertips through these apps.
A Food Delivery App is another business idea that makes it way easier for you to bring worldwide cuisines when you are famished either at 12.00 late at night or hungry for breakfast at 9.00 in the morning on your table. It's also an asset for foodie people around there who are willing to try out a variety of food but aren't aware of the right place to order.
Since it is too complex and an amalgamated platform for connecting a chain of restaurants, delivery staff, and customers, the entire food delivery app has become the best choice for all.
However, the question comes to anyone's mind about what things should be needed to make such wonderful apps that feed you anywhere, anytime, any place in the world.
We have mentioned our lots of days gathered data by our experts and technical team here. After it, you will be able to differentiate the different aspects of a food delivery app and its working functionality.
Easy to Order and Tracking of an Order must be Convenient
A food delivery app is meant to be used by customers at any time and any place. So what should be its prime factor that easily helps users order food and track their order every second of the minute?
This is what makes it convenient for users to order food from their favorite restaurants and get delivery within a minute.
The App Must Have the Filter Functionality
Imagine an app that has such an easy User Interface that makes users filter the list of restaurants and their favorite choice of food based on their preference.
These such things only can happen when the user has the choice to search nearby cuisines, menus, food items, assigned delivery staff, order statuses, and delivery status through an aesthetic layout to get delivery in a few minutes.
Users Data Security and Payment Gateway
Whenever a user installs your food app then it becomes your responsibility to keep his data safe which he filled during the signup process. Users' data may contain phone numbers, addresses, identity, and last but not least account details which app access to get order payment.
Another factor is that payment gateway should be highly encrypted like PayPal, UPI, and other wallets. Any loophole can cause users to lose in different ways.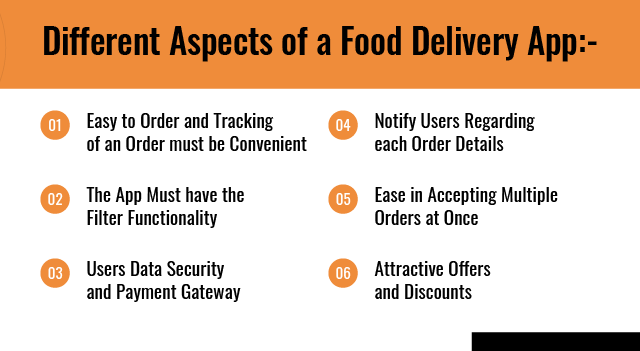 Notify Users Regarding Each Order Details
Any app in your smartphone is only useful if it is capable of sending notifications to the user regarding it, So as your food app should be. Apps should be able to notify users about their order details like the amount to be paid, the order is accepted or not, whether the delivery boy denied the order request or how much time it needs to get it delivered, etc. this must-have basic functionality an app has for food delivery purpose.
Ease in Accepting Multiple Orders at Once
What makes a new app stand out in the same business venture is facilitating the users to multiply at once. This can certainly be the best way since delivery of food is what users expect on time when they feel hungry. This one extra feature can save you from losing your business worth or the business itself; even giants like Uber Eats India were taken over by Zomato in 2019.
Attractive Offers and Discounts
People usually get attracted if they get some discount on anything. App owners should also keep this thing in mind that if they offer discounts and combo packs for dinner and lunch for their users it becomes a win-win situation for both users and restaurants both. It escalates the sales of their business and users get some coupon discounts which they can redeem later and makes user profit too.
Mind Set Of An App Owner
Start with Budget Criteria and Technology Hand in Hand
If you are a newbie in this food business app then you should decide the maximum budget firstly you can afford. Generally, new entrepreneurs expand their budget to get an app which they are not sure about.
You have to ensure that either you want an app for iOS, Android, or both platforms respectively. Always choose a framework with complete knowledge after lots of research and discussion with the technical team. Also, your budget and technology decide what kind of app you want, Basic, Intermediate, or Expert level app so choose wisely…
UI/UX Within an App Should be Steady & Strong
Your food app should be interactive and easy to use. It doesn't matter whosoever from a customer, restaurant, or to a delivery person using up your app, the user interface is lag-free and easy to click through app screens wherein users can move back and forth with great ease.
To ensure that if your app has a maximum number of screens it becomes hassling for users and they find it boring due to inconvenience to find or search for something they need. So keep it minimum screens and app interface provide maximum features in it.
The App Must have Updates Timely and Information about Everything
What if your app containing restaurants and food items is doing well in all aspects??
It may be possible to see a rush in users while getting their favorite food based on ratings and reviews given by others. This can only be sorted out with the help of an app updating its features from time to time as your food business grows exponentially.
Your app processing should be ready, steady, and on the go kind of, it must contain the data volume expansion to collect the ratings, reviews, and feedbacks by users and restaurants you have collaborated with. It also contains the overall profile information about itself like how the app is growing and expanding its food business as time is passing by.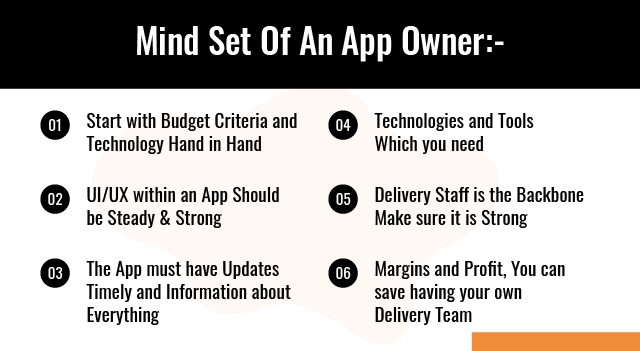 Technologies and Tools Which you need
To choose an app for platforms:
iOS, Android, or hybrid app
The technology you need:
React Native for hybrid apps
For Geolocation:-
To determine the app user's location:
Core Location Framework (for iOS)


Google's Places API (for Android)
For providing driving directions:
Google Maps API (for Android)
.
Delivery Staff is the Backbone Make Sure it is Strong
Getting an app for your food business is not a really tough task, but managing the backend working is the real deal. To deal with the delivery staff, their working etiquettes, how they react and work under lots of delivery orders to parcels under pressure, how they behave with customers, etc. for all this stuff should be well trained.
Owners of the app should also need to provide their staff salary on time, bonus and incentive should also be provided timely to award them with the best performer of the month. These things make them happy and they work hard enough to get appreciated, also it saves you from absconding and lack of staff. If the employee is happy, your business automatically grows daily.
Margins and Profit, You can save having your own Delivery Team
Being an app owner, you must be well aware of the lavish commissions being charged by restaurants and food points. Sometimes, commissions with extra taxation make it a big amount to pay for delivery guys of these restaurants and food corners.
There are many companies like Zomato and Swiggy which have made their business so big by taking these margins and commissions. They charge 12-22% of the money from restaurants and that's the money you could save by having a personal delivery staff for your food business.
Concluding Thoughts
As an entrepreneur, if you are thinking of the profit you can make with a food delivery app, then we suggest you get an application for both android and IOS platforms. It depends on your budget to get apps separately or you want hybrid apps for cross-platform.
Choose the app developer team wisely and precisely while having a complete discussion with the team and keeping all things in mind we mentioned. Always choose an experienced team of developers for your business app, only it decides how your business grows exponentially daily.