Are you one of those, who want to get an application built?
If yes, then we have brought an article for you with tips on hiring a mobile development company.
When finding an ongoing company for mobile app development or a company for mobile web development, research and comparison of rates and services are vital.
Mobile Development is a complex process that requires the right expertise and experience. To ensure you get high-quality software for your business needs, it's essential to choose one of the best mobile app development companies.
This Article Mentions a Few Factors that you Should Keep in Mind When Finding an Ongoing Company for a Mobile App Company.
What are your Mobile App Requirements?
Acknowledge your requirements and be exact about what you need in your application. Right down your requirements for the application.
This step is really important as it will help your app developer to include all the functions. The functionalities are directly proportionate to the type of industry and products.
Check for the Customer Service–
You should never go for a company with low quality of customer service as it helps communicate. You are going to spend a lump sum amount of money, and in return, you just wish to have good customer service in return. Search for companies that have been in the industry for a long time and are ready to walk the extra mile for you!
Does the Company Have a Good Reputation?
Before shortlisting a company, you should examine their previous work so that there is an assurance of being in safe hands. Also, make sure that the developers can create an application with a unique idea.
The portfolio will give you an idea of the working of the company. You can also check their reviews on Google before finalizing the company.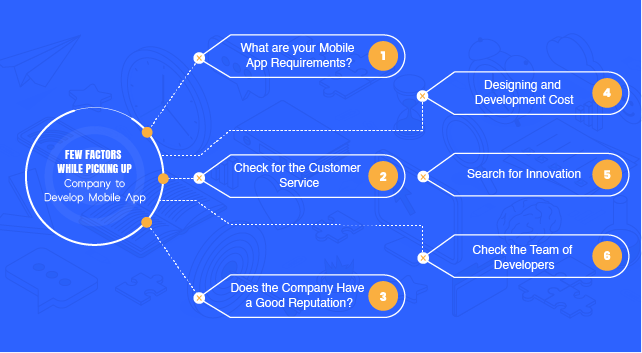 Designing and Development Cost–
Firstly, you should set a budget before hiring a company for app development.
Before finalizing the agreement, they confirm the overall design and development costs. You may want to consider a low-key company that can offer your various features and does not even get your pocket empty.
Search for Innovation–
It would be best if you always go for a company with a unique ideology. Companies with innovative ideas deploy unique apps that offer many benefits. Your business can accelerate the pace with unique applications. In easy words, your business can enhance its performance by getting an application that fits the best for you!
Check the Team of Developers–
Make a final decision by seeing if the developers are efficient enough or not! Evaluate the technology they will use and check their technical abilities. When choosing an individual company, it's important to check whether they can work on the platform used and if they have problem-solving skills. Selecting a company that specializes in developing mobile applications may be the best option.
Final Words
Choosing the best company from this many options can be hectic. After choosing a company, make them clear with your requirements so that they can put all your requirements together and build an application according to your niche.
Get an application developed by Engineer Master and showcase your products and services to the customers and earn significant revenue.