A successful Startup Business starts with an idea, but it has to be implemented. Here are the ten steps to start your journey of a Startup Business.
Every individual has at the minimum of one idea for bringing a full stop to the problem of the current scenario. The fact that makes the founders of Startup Businesses different from other people is their willingness to take action to make their idea a reality.
If you are wishing to leave your day job and come out as a founder, it might be helpful to reflect and make a plan but, when you have made up your mind, you have to start working really quick.
The biggest step for executing is just getting started. Once you have done this then you have all the balls in your court and according to us, Startup Business is a big step.
A Checklist of the Steps for Startup Business.
1. Conduct Market Research
Doing market research is the first step to knowing if you really do have an idea that should be pursued. Start your research by penning down what you think the problem is and how your Startup Business can help the audience out there solve it!
Write it down physically and keep it in front of you.
First, find out the number of people facing the problem that you have an idealogy for solving. And you could also take up a survey to know the "potential customers" and see what they have to say.
After you have the results in front of you, check the competition and try to know if you are strong enough to stand equal with them and pave your way in the market.
Gather all of your research material when you are finished, as they will help you in securing the funds later on.
2.

Secure Intellectual Property
You will have to follow the process of Intellectual Property(IP) which refers to the process by which an individual or a company owns the rights to curate a product. Like: Patents, Copyrights, Trademarks. It is very important for your Startup Business to follow the proper instructions or the protocol to safeguard your differentiating factor.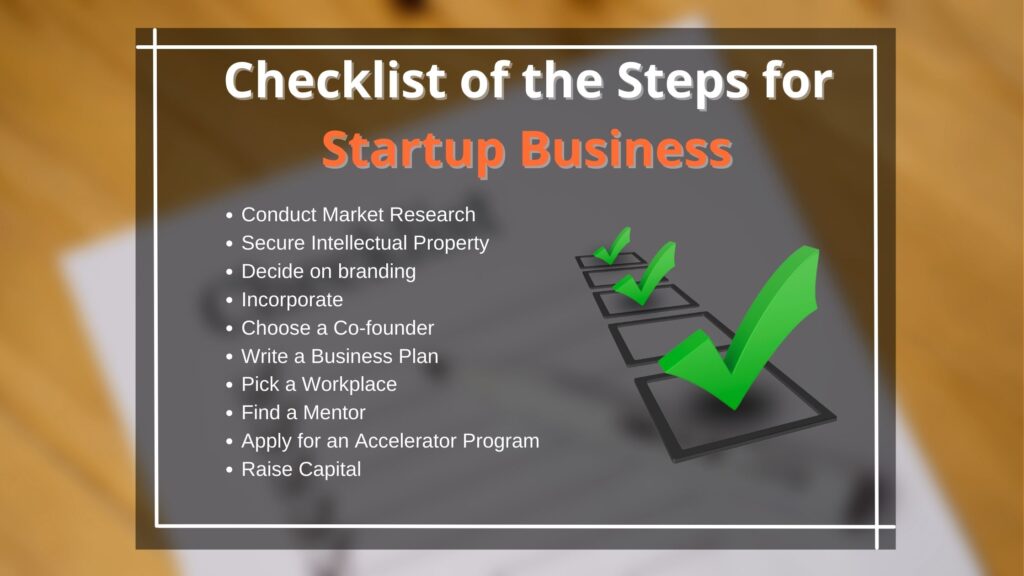 If you secure your IP early, you will protect yourself from copycats. But also, keep in mind that you are not one of them, even accidentally.
Make sure that you are not violating any valid IP rights or non-compete agreements, or else you will have to face legal consequences.
When you know you are clear, file your patent or register for your trademark or copyright.
Pro tip: Once you have control of the IP, transfer it to the company once it has been incorporated.
3.

Decide on Branding
Branding is not just about choosing a name, it is also about deciding the appearance of your idea. You have to choose something you choose but choose wisely. Choose a name that conveys the experience of using your product and the solution your Startup Business is giving to the problem.
Know any existing product successes or failures associated with the name you choose and how they may affect adoption. At this time, you should also secure your website domain name and other marketing materials.
This is also when you write and internalize your elevator pitch so that you know exactly what to say when someone asks what your company does.
4.

Incorporate
It is a very big step for a Startup Business to incorporate because there are so many aspects of the startup business lifecycle that is inculcated with it, and are affected by it. It is the process of turning your Startup Business into a legal entity and knowing how it will be structured.
Basically, a startup business will be incorporated as an LLC, a C Corporation, or an S corporation. The LLC and S Corporations have tax exemptions, and on the other hand, the C corporation is considered a taxable entity.
5.

Choose a Co-founder
As our body is nothing without a backbone, in the same way, the best idea for your startup business is nothing without support. Moreover, there are some investors that get to know the founding team even before knowing the idea or Startup Business they are considering investing in. If you have a co-founder — that is great, but you do not have it then you should bring someone into the scenario.
In addition to style and personality, you should think about how you can work together to accomplish goals through your Startup Business, as you will be working together every day. Additionally, there may only be room for one person in the spotlight, so be aware that one of you may have to work behind the scenes.
6.

Write a Business Plan
The best way to start your Startup Business on the right path is to write a good business plan. Now, here is the use of the market research that you did earlier. Now, create your plan of attack and decide your accomplishment with your new Startup Business. Make a list of your goals and milestones, and what steps you need to take to reach them.
7.

Pick a Workplace
The aura and surrounding of the place where you work do have an effect on your Startup Business as you are just raising from the ground. Every working style has its own environment of working. There are many founders who prefer working from home initially, but there are some who rent a place, share an office, or rent an office for themselves.
You should not be afraid of experimenting and exploring new things, but don't let the search for a perfect space come in your way of work.
8.

Find a Mentor
Mentorship is a delicate subject. First, decide for yourself that should you have a mentor as a founder?

If yes, finding the right mentor can make a very big difference. Even with the combined expertise of you and your co-founder, a mentor will provide deep industry insight and wisdom to help you overcome some of the challenges you'll face during the process of building your Startup Business.
9.

Apply for an Accelerator Program
Consider applying for an accelerator if you need some additional resources and expertise. Accelerators are programs for startups that boost business growth by providing a network of mentors and sometimes a small investment.
Additionally, their companies can participate in these programs to pitch the media and other members of the Startup Business community during a demonstration day at the end of the program. Nevertheless, most of these programs require an equity stake in your business.
10.

Raise Capital
Taking the Startup Business to the next step needs financial investment in the company.
Founders give equity in their companies to angel investors or venture capital investors in exchange for money and, sometimes, advice. While capital investments can be immensely helpful, they do have a dark side that needs to be understood before you proceed.
You should decide how much money you need to raise and how it will affect your Startup Business before raising capital. The next step is to figure out how you're going to raise it – through crowdfunding, angel investors, or traditional venture capital companies. Lastly, you need to practice pitching.
Final Words on Startup Business
Obviously, this list is not exhaustive, and the complete set of steps you will need to take to start your Startup Business will depend on your specific circumstances. Nevertheless, these steps will help you get started and are on your way to a public launch.
Read our blog- How to pick a Company for Mobile App Development